Fuzon's tribute album 'Ik Raanjha'
09 December 2015
- The Express Tribune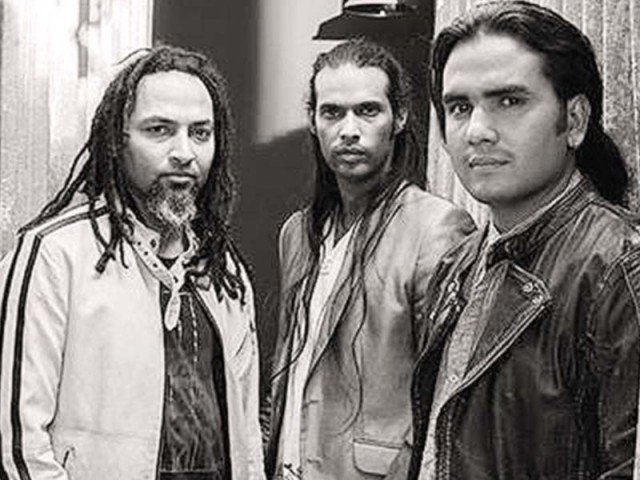 KARACHI:
While switching allegiances [albeit for a brief moment] during a climatic sequence in the 2011 superhero film, X-Men: First Class, the mutant Darwin explains his motivation behind the decision saying that it was out of his instinct as he realised that he needed to "adapt to survive".
Pakistani band Fuzon seems to be using the same mantra as that of Darwin. Having recently released their tribute album — Ik Ranjha — on the online music streaming portal Saavn, the band spoke to The Express Tribune about what factors prompted them to pursue a digital release over the traditional CD format.
The band's guitarist, Shallum Xavier explains that given the current situation of the music industry, digital release remains the best method for musicians to generate revenue. "Now it [music] is entirely digital. Almost all of the bands are now releasing their music online. They do release the hard-copies and CD versions of their album but they are limited," says Shallum.
EMI Pakistan, which also launched the online music streaming portal in the country a few months ago, has uploaded the album on the streaming portal, which also features several other Pakistani musicians.
Front-man and composer of the band Imran Momina, more popularly known as Immu, appreciated the efforts of EMI. "It is no secret that EMI Pakistan is among the few companies ensuring that artistes in the country are paid royalties for their music, "says Immu.
With their previous albums Saagar and Journey being produced under separate record labels their songs have not yet been uploaded on any music streaming website. "The reason we collaborated with EMI Pakistan was because they helped us obtain the rights to all of these classic songs by Pakistani singers."
Some of the classics that have been revisited in the album include Gulon Main Rang, Lai Be Qadraan Naal Yaari and Mere Shouq Da Nae.
Another notable music streaming website that came to the forefront over the past few months is Patari and Immu remained tight-lipped about the prospect of uploading the album over there. "Ik Raanjha is there onTaazi and Saavn for now but not on Patari as of yet. We have been approached by Patari but no such decision has been made on that for now."
To a question about what sort of business model is being adapted bySaavn and how it stands to benefit the artistes, Shallum explained that, even though the rights to the entire album have been bought at a certain price, they will still be paid a certain amount per song.
"It depends on the number of times a song is streamed as we'll be paid a certain fixed amount per play."
Despite releasing their album digitally, both Immu and Shallum reassured that they would also be aiming for physical releases in the coming few weeks.
"We have already made a few videos and they would soon be airing on music channels after which we would release the physical copies of the album," said Immu.
Plans for another Fuzon album are already in the works but no specific release date has been fixed.