EMI Pakistan Partners with Lahore Music Meet
06 April 2016
- Farhan Hafeez Blog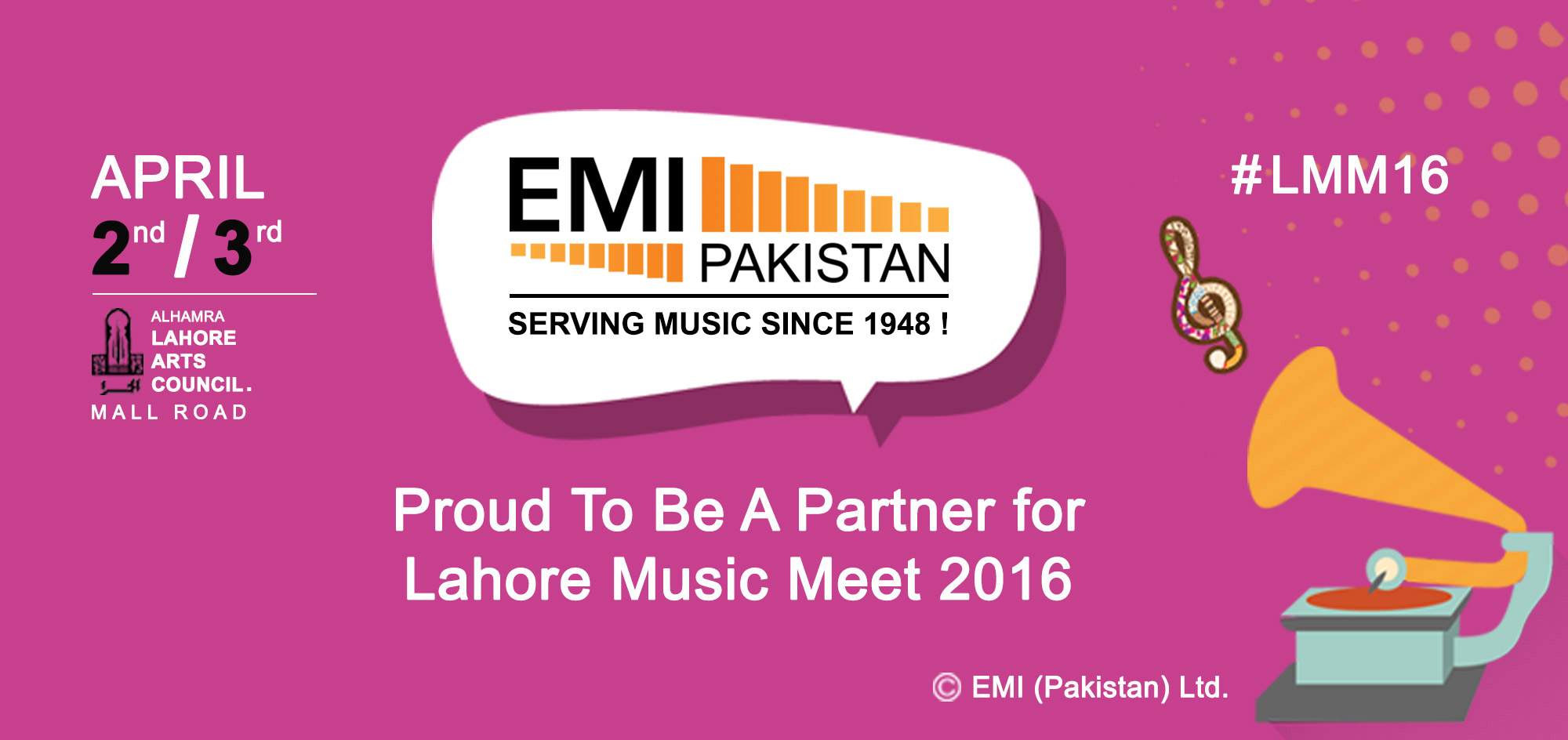 [Lahore: 4th April 2016]: Music Meets, the powerhouse team behind Pakistan's First Ever Music Symposium,which staged the second edition of The Lahore Music Meet [#LMM16] at Alhamra Art Center in Lahore on the 2nd and 3rd of April 2016. The two-day event was dedicated to the celebration and critique of music in Pakistan and was headlined by Pakistan's leading folk musician Attaullah Khan Esakhelvi, pop sensation Ali Zafar, classical folk singer Mai Dhai, contemporary Fusion Orchestra Sounds Of Kolachi and indie-rock band Red Blood Cat.
Lahore Music Meet is an organization that has been established this year to provide a platform for all activities pertaining to music performance, enterprise, education and academia to take place with the ultimate goal of encouraging talents and fostering relationships between individuals within the music fraternity. By providing such a platform, LMM hopes to revitalize the reputation and perception of music within the country and abroad. The two-day event was supported by EMI Pakistan as the official festival partner. The PR was Done by none other than Lotus PR.
EMI Pakistan Limited, previously known as Gramophone Company of Pakistan partnered with LMM in an attempt to revive the culture of classical music in Pakistan. Talking about the company itself it is the oldest and the largest music company in Pakistan with unique collections of the golden era of Pakistan's music industry dating back to 1939. Till date EMI Pakistan holds record of having recorded more than 55,000 tracks and 3,400 contracted artists and is the largest single repertoire of music in the industry.
EMI Pakistan came up with a uniqe idea as part of the Lahore Music Meet festival to setup a music lounge for the music lovers. The purpose of this lounge was basically to make people feel at home by providing them a comfortable sitting area where they could relax and enjoy the music of their choice. The Lounge was beautifully setup with leather sofas seated in an L shaped manner behind which was the wall of Legends. This wall to me has to be the highlight of the whole setup as it blended well with the setting. In addition to the legendary wall was the music booth. For any music fan what's more rejoicing then having a music booth all by him/herself where they could listen to their favourite tracks and get themselves mesmerized by the sound of music.
The Lounge also consisted of EMI's own stall which provided its visitors with a collection of CDs and the people could buy their favourite album from a variety of CDs available. To add more the visitors were also presented with a gift hamper by EMI Pakistan that contained CD Official EMI Calendar and company souveniours.
The two-day event was open to the general public with no cost of admission and also featured live outdoor music performances by various artists from across the country such as; Afraz Anjum, Mooroo, Shahzad Noor of Shorbanoor, Aaishay Haque, Zoe Viccaji, Takatak, Sikandar Ka Mandar, Keeray Makoray, Naseer & Shahab, Quadrum, Natasha Beyg, Ali Suhail, Tollcrane, Shamoon Ismail, Xarb, Bayaan and Sameen Qasim to name a few.
Talking about the public opinion there is no surprise in saying that every single person who attended the event loved it and enjoyed it to the fullest. For some the highlight was the inspirational talks by the various artists on music and for some the charm was to relax in the lounge and listen to the golden era songs of their choice.
All in all it was one event that really deserves huge appreciation. Art and music is something that has always been underestimated in a country Like Pakistan. Festivals like these should take place more often so that people develop some love and appreciation for it and also through such platforms not only will local musicians and their talent will get exposed but also it will become a platform for local artists to market themselves in the international arena.