Lahore Music Meet Teamed Up With EMI Pakistan
07 April 2016
- Fashion Blitz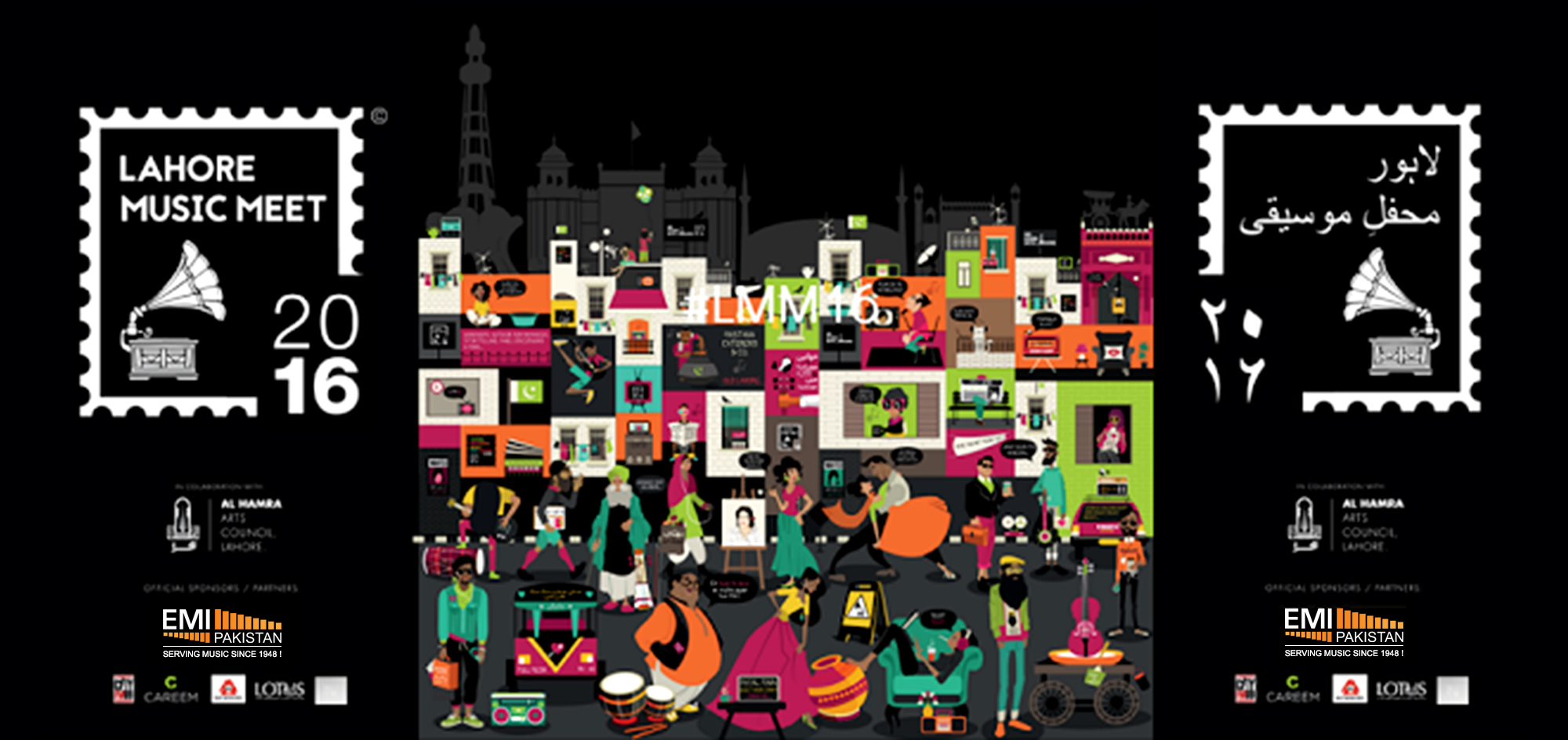 Music is fuel for the soul. It has charm to smooth a savage beast, to soften rocks, or bend a knotted oak. Every individual loves to listen music, genre may differ but everyone loves music as it stocks pleasure and gratification deep inside the heart.
On 2nd and 3rd April, Lahore Music Meet (#LLM16) was held at Alhamra Art Center, Lahore. It was a joint event organized by Lahore Music Meet and EMI Pakistan . The event was based on story telling sessions, workshops and LIVE performances.
Many renowned names from music industry enhanced the allure of the event. Leading folk singer Attaullah Khan Esakhelvi, classical folk singer Mai Dhai, contemporary Fusion Orchestra Sounds Of Kolachi and indie-rock band Red Blood Cat also performed at the event. Moreover, the event was studded with various outdoor performances by various artists across the country such as Afraz Anjum, Mooroo, Shahzad Noor of Shorbanoor, Aaishay Haque, Zoe Viccaji, Takatak, Sikandar Ka Mandar, Keeray Makoray, Naseer & Shahab, Quadrum, Natasha Beyg, Ali Suhail, Tollcrane, Shamoon Ismail, Xarb, Bayaan and Sameen Qasim.
The Lahore Music Meet (LLM) was a two day event, organized with the intention to celebrate the music in Pakistan. The basic purpose of Lahore Music Meet (LMM) was to provide a platform to enthusiasts, artists, patrons, industry representative and academics in order to showcase their work and conduct a dialogue which would lead the music industry towards betterment.
The series of panel discussions, seminars, workshops and performances conducted under the umbrella of Lahore Music Meet (LLM) provided a learning opportunity to both established and struggling artists. It didn't only entertained the hopeful musicians but also any individual related to music in any way.

The provision of such a platform is really meaningful in order to encourage the sharing of experiences, provision of production and performances spaces, creating the opportunity to introduce the fresh musicians with the great and established names of industry. All in all Lahore Music Meet (LLM) is a critical necessity to preserve folk and other neglected forms of music.
EMI Pakistan Limited, previously the Gramophone Company of Pakistan is the oldest and the largest music company in Pakistan. It is proud to own unique gems of the golden era of Pakistan's music industry dating back to 1939. EMI Pakistan is a trusted name and prides itself in being the custodians of the country's musical heritage. With over 55,000 tracks and 3,400 contracted artists, by volume it has the largest single repertoire of music in the industry and an impressive collection of over 6000 hours of subcontinent music.
As an official partner EMI also contributed in Lahore Music Meet (LLM). EMI stall with huge collection of audio CDs was present at LLM in order to facilitate the music admirers. CDs as well as EMI Pakistan goods such as mugs imprinted with EMI logo and calendars embellished with legends of film and music industry of Pakistan, catered the interest of visitors. People were buying CDs containing their favorite songs and other EMI stuff. Moreover Team EMI Pakistan was providing the visitors with a gift hamper containing EMI articles.
An alluring lounge with comfortable sitting arrangements and incredible music system was arranged for visitors. That was a peaceful corner for people to sit, and listen whatever they want. Music lovers were requesting their favorite songs and ghazals. The most amazing part was, they were as involved with such melodious tunes and soulful lyrics as there was nothing in the universe except music. I was observing their facial expressions. It was something indescribable. It seemed that they had been lost in their past, thinking about the beauty of that era. The euphonious voices of Abida Parveen, Nusrat Fateh Ali Khan, Noor Jahan, Mehdi Hassan, Iqbal Bano, Ghulam Ali and other legendary singers were creating a mesmerizing environment.
I also requested some of my favorite ghazals including " Wo Ishq Jo Hum Sa Rooth Gya" and "Aaj Jannay Ki Zid Na Karo" by Iqbal Bano. It was amazing to see that these ghazals were favorite of many, presented there. Some of them also appreciated my choice.
In addition to lounge, there was a listening booth for those who wanted to listen music in isolation. There were four laptops having four genres of Pakistani music i.e Evergreen, GhazalGeet, Romantic and Qawali. I personally loved the walls of lounge comprising of the pictures of legendary artists of film & music industry of Pakistan.
I don't think anyone who attended the LMM, came back without having some melodious memories. Moreover the food stalls presented there were cherry on top. In short, everything was well organised by "Team EMI Pakistan" and team deserves huge appreciation.
Overall it was an unforgettable harmonious experience. This type of events should be organised more often as it is not only a source of entertainment for music lovers but also provides opportunities to musicians to exhibit their talent.