Asad Ahmed Releases First Solo Album
14 July 2017
- EMI Pakistan Official Release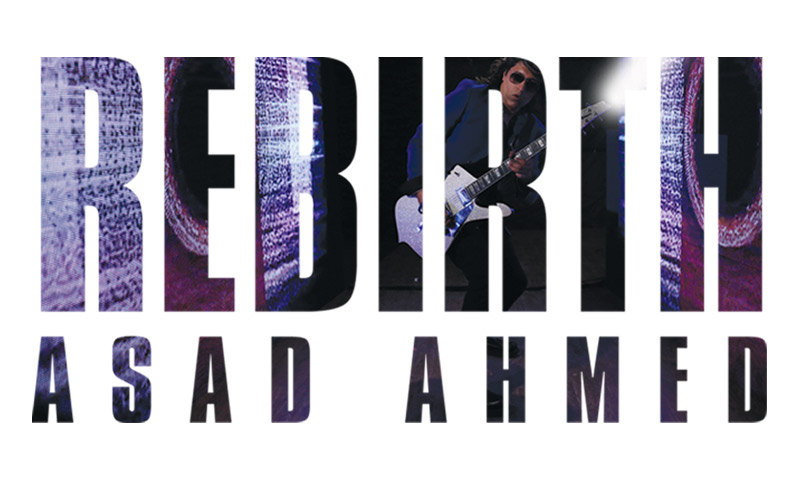 EMI Pakistan releases Asad Ahmed's album & first single
July13, 2017: EMI Pakistan is proud to announce the release of the debut solo album from legendary guitarist Asad Ahmed available worldwide from today, 14th July, 2017.
Rebirth is the first solo album released by Asad and is the culmination of four years of writing and recording. From the primal aggression of Animal to the dulcet tones of Bitter Sweet Love,a sonic guitar landscape of epic proportions with rock, blues and jazz styling, Asad has managed to create a fresh sound bringing him well into the 21st century.
Speaking about the release Asad Ahmed stated: "Making Rebirth has been a labor of love and a direct response to fans demanding an instrumental guitar album for 2 decades. Coming out of the ashes of Karavan, I felt I had to redefine myself, not only as a guitarist but also as a producer. Rebirth is not only breaking new ground musically and sonically but, it is also a nod to the past with a sharp focus on the future."
The Rebirth album includes 10 tracks in total with 'Animal' being the first single to be released with a video. The video has been directed by Aman Ahmed with Zeeshan Chaudhry, COO EMI Pakistan, as the producer.
Talking about the production of the video Zeeshan Chaudhry shared: "We are extremely excited to be releasing Asad's album and video today. Working with Asad has always been a pleasure.The video was a lot of fun to produce. Asad's fans can expect to see him in his true element in this track and we can't wait to release the other 2 singles later this year."
The other tracks on the album include: Above the Clouds, Bitter Sweet Love, Drive All Night, The Grand Design, Into the Vortex,Rebirth, Maximum Throttle, Strip and Strut and Will You?
Asad's association with EMI Pakistan dates back to 1990 when he released the first rock album in Pakistan with The Barbarians. He has released 7 studio albums with his bands Awaz and Karavan notching up sales of more than 3 million copies. He has also worked with Pakistan's finest including albums by Rahat Fateh Ali Khan, Vital Signs, Ali Zafar and many more.