EMI Pakistan Launches Zoheb Hassan's Video & Album
21 July 2017
- EMI Pakistan Official Release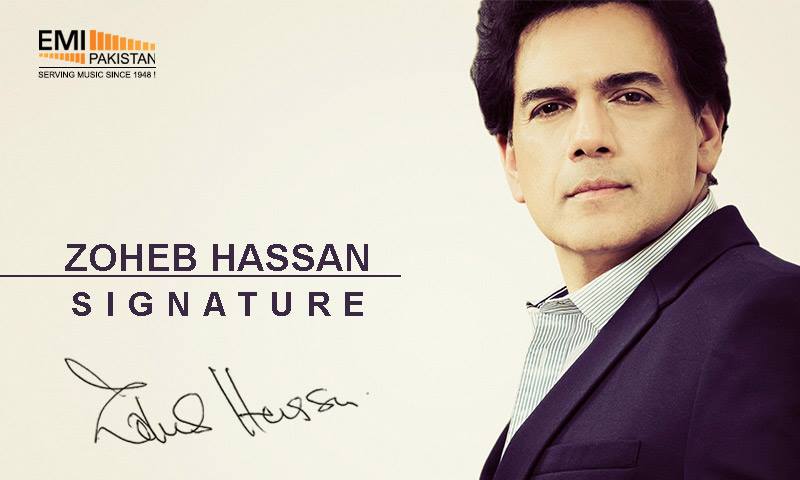 Zoheb Hassan is back to entertain the audience once again with his hits!
PAKISTAN, Karachi, July 20, 2017: EMI Pakistan launches Zoheb Hassan's album, Signature and video, Silsilay.
The album is a collection of some of his best work to date. His scintillating voice is backed by the slick production of renowned UK based music director, DJ Swami who has produced leading international artists such as Shania Twain, Apache Indian and Stereo Nation. In addition to this Immu of FUZON has specially composed 3 super tracks for Zoheb's album. The album superbly demonstrates Zoheb's range and artistic ability proving him to be the singing icon he is.
Zoheb Hassan and Nazia Hassan are credited for introducing the disco and pop genre back in 1970s, an era when the subcontinent hadn't had its own music with that kind of foreign flavour.Some of the most popular songs to date are Disco Deewane, Dosti, Dum Dum Dee Dee, Sunn Mere MehboobSunn andAag among many others.
His ballad "Chehra" is considered a core romantic anthem to this day. He has received 12 gold, 4 platinum and 2 double platinum discs in his music career. He is also the recipient of a Lifetime Achievement Award from the United Nations Association of Pakistan as well as an award from the Oxford University for Achievements in the field of South Asian Music.
The album and video have been released by EMI Pakistan. According to Zeeshan Chaudhry, COO of EMI Pakistan, "My generation grew up listening to Nazia and Zoheb's music, so to be able to work with Zoheb on this album, especially the video productions, was a sentimental as well as exciting experience. At EMI Pakistan we are super excited; Zoheb Hassan has always been an integral part of our 'family' and it is an absolute honor to have him release his new album "Signature" with us."By launching new releases, EMI Pakistan has taken its first step towards a comeback in the music industry. EMI Pakistan is providing a platform to new and old artists toshowcase their talent and make our music industry grow in coming years."
Zoheb Hassan expressed his feelings, "I am excited to continue giving my contribution towards the music industry with the launch of my album, Signature and video, Silsilay. The album revolves around my experiences and all that I and my family have experienced over the last 10 years. One of the most exciting tracks on the album "Signature" is a Dance Mix compilation of Nazia and my work that we have done together. It contains the last track that Nazia Hassan sang. He also revealed that Nazia had sung alternate versions of "Koi Nahi", "Disco Deewane" and "Boom Boom" - all three of which have been put into this song."