Asad Ahmed Releases His Music Video "Rebirth"
18 December 2017
- EMI Pakistan Official Release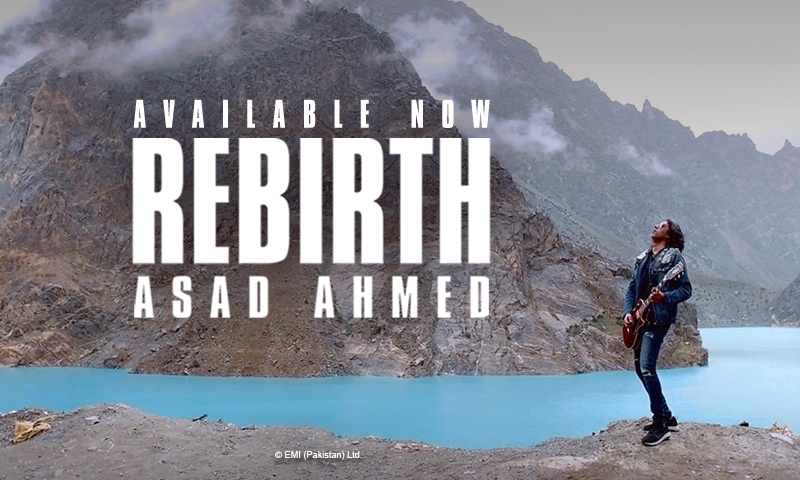 Asad Ahmed Releases His Music Video "Rebirth"
Asad Ahmed shoots his music video in the surreal northern areas of Pakistan
PAKISTAN, Karachi, EMI Pakistan and Asad Ahmed are thrilled to announce the release of Asad's latest music video, Rebirth. The title song from his album Rebirth along with the video was released today on all the official digital platforms of EMI Pakistan i.e. Youtube, Vevo, Vimeo etc.
Rebirth has been produced by record label company EMI Pakistan and directed by Amaan Ahmed. The track takes a listener on a journey through some of the undiscovered areas of northern Pakistan.
The music video was shot in a number of locations including Hunza Valley, Attabad Lake, Khunjerab Pass, Passu Glacier, Naran, Babusar Top, Pasu Cones and Harnai Bridge. The video comprises of some breathtaking and daring shots of these areas including showing Asad strumming his guitar in the middle of a suspended bridge.
Amaan Ahmed, Director of Rebirth said: "'Rebirth is a video about a Wanderer, on a path of self discovery. We wanted to film the video in remote scenic locations where we don't see anyone else other than Asad Ahmed walking/performing. We trekked miles and miles away from civilization to achieve that. The video was shot on longer lens and drones were used to get the extreme wide angle shots. The trick was to use natural light in the best possible way, so shooting time for every location was very important. As far as the whole experience is concerned, we were just awe-struck with the beauty of the Northern areas and the hospitality of its people. We hope that this video shows the softer image of the Northern areas of Pakistan and changes the perception of it being a dangerous place."
Zeeshan Chaudhry,Executive Producer of the video and EMI Pakistan's COO said "The idea of Asad Ahmed performing in the northern side of Pakistan amongst beautiful landscapes is very appealing. This was a perfect opportunity for us to showcase the beauty of our country and take the audience on a visual expedition. The title "Rebirth" is a breakthrough in the instrumental music scene of Pakistan and also part of our constant commitment towards the betterment of the Pakistani music industry."
Asad Ahmed giving an insight about his music video said:"The name Rebirth comes from re-discovering myself after a series of events that led me to explore and re-invent myself over a period of 4 years. What we see in the video is a depiction of those feelings presented through the camera eye, showing me travelling to the furthest regions of the country alone with just a guitar in hand. Finding the light was an important part of my healing process which is why we have shown such landscapes and my presence at all these places, yet in solitude."
Asad also added "I wanted to explore the northern areas of Pakistan for the video to show the vast landscape that a lot of people have not yet seen or discovered."