Guitarist Asad Ahmed Releases Rebirth Music Video
22 December 2017
- The Express Tribune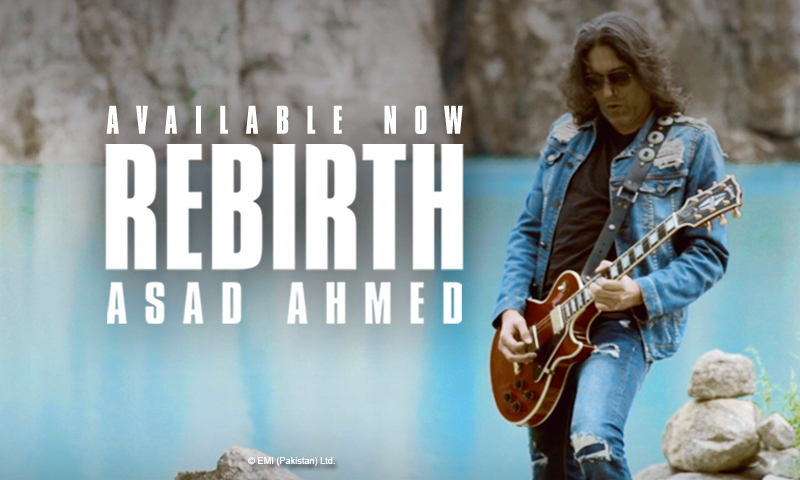 KARACHI: In July this year, veteran guitarist Asad Ahmed released his first solo album titled Rebirth. On December 18, he, through EMI Pakistan, released the music video of the album's title track. The video, directed by Amaan Ahmed, shows the Karavan co-founder in the northern areas of Pakistan playing the guitar amid the mountains and waters.
"The whole premise of Rebirth is that it's a song about rediscovery," he told The Express Tribune. "In the video, it's about me being a wanderer, looking for truth in the vast scenery, whether it's on a mountain or a boat. It's basically self-discovery for me."
The video interestingly shows just Asad walking and interacting and playing guitar in the nature. Nowhere in the video, one sees other human life, as to put the focus on the dialogue between Asad and nature. He explains, to achieve that, they had to travel for hours to find the right spots. "For me, it makes the video very personal. This was my idea. I wanted to go capture these places, not only for the song but because, as much as this is about my self-discovery, it's also intended to portray a positive image of Pakistan," said Asad, adding that not many travel to the places, like Passu glacier.
At one point in the video, we see Asad, wearing black, standing on a mountain while the camera aerials back in the sky, blending the guitarist's body form in the textural background. He explains it was in fact a glacier with a landslide on it. "I kept telling them to hurry up and take the shot because I could feel it melting under my feet. It took four hours of trekking to get up there."
The 10-track instrumental album, which released in summer, has been receiving positive response from across the world, according to Asad. As to the market of instrumental music in Pakistan, he said this is where digital platforms come in. "In this digital age, we are not just catering to a specific region. The fact that this video will be seen everywhere, once you start being insular and focus on one territory, it would limit us. Right now, as it stands, this album is geared towards an international market, including Pakistan. We have a small instrumental music listening market, but a very dedicated one."
In an earlier interview, Asad talked about the stories behind all the tracks in the album, which is a culmination of four years of writing and recording. "I feel like Rebirth is me shedding my skin and coming clean. It's about my rebirth. I've extensively worked for decades and while I'm proud of the work I've done, I feel times have changed," he said. "I listen to Pakistani music and I listen to the music produced globally and I see ours is quite outdated. So, with Rebirth, I am saying this is the sound of the 21st century and the future."