Asad Ahmed's Music Video 'Will You' is Finally Out
04 February 2020
- EMI Pakistan Official Press Release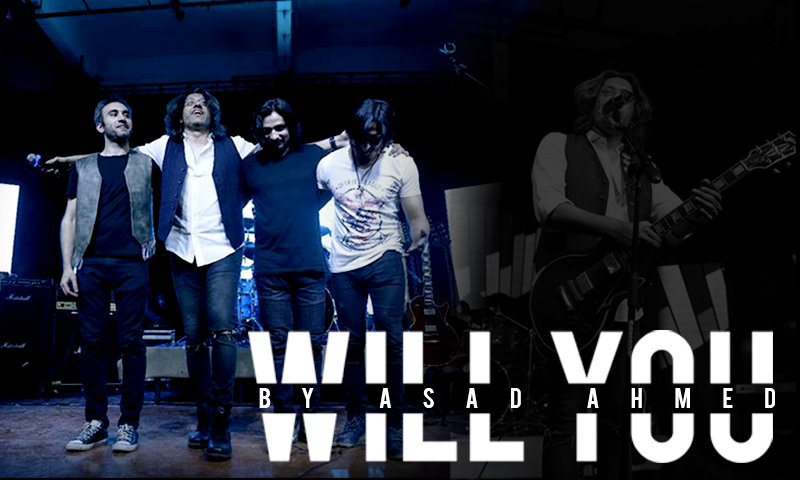 The wait is over, Asad Ahmed's music video "Will You" is finally out
PAKISTAN, Karachi July 06, 2018: EMI Pakistan recently released Asad Ahmed's new music video "Will You."The video has been exclusively launched on EMI Pakistan's official channel on YouTube and shall be available on other video platforms later. The song embodies the true essence of Asad Ahmed's music and is the power-packed track of the album "Rebirth." The video gives fans an insight into the artist's experience of performing live in front of thousands of his cheering fans.
"Will You" has been directed by Amaan Ahmed, who previously directed two of Asad's music videos, in high definition. The video captures the feeling of a live performance by putting the viewer in the middle of all the action and energy on stage. It also captures moments of Asad's debut sold-out show that was held in Karachi with footages of rehearsals, the live performance, and backstage shots.
Speaking about his new music video Asad Ahmed commented,"'Will You' is one of my favorite instrumentals to perform live. It was a no brainer to do a live feel music video for the track, as being high energy and possibly the heaviest track from the album, deserves nothing less than an energetic performance video. Releasing this track further solidifies my vision for bringing instrumental rock back to mainstream music in Pakistan. Being the first person to attempt this and that too successfully, I consider myself very fortunate and am incredibly grateful to my fans for allowing me to play my music the way it should have been played all along. Being the pioneer of rock music in Pakistan gives me great satisfaction to realize new dreams and ambitions at this stage in my career. 30 years of giving the gift of music to people have given me a feeling of accomplishment that very few can attain during a lifetime. "
While speaking about the release, Zeeshan Chaudhry, COO of EMI Pakistan, stated, "It gives us great pleasure to release Asad Ahmed's new music video "Will You." EMI Pakistan is always exploring newer genres, therefore, when Asad came to us with an instrumental album, we knew it was the perfect time to take the leap from conventional Pakistani music. It is very exciting for us to see the kind of response and support we have received over the release of Asad's rock instrumental album "Rebirth." Capturing the real energy of this performance track on stage is no easy job and Aman has tremendously done justice with the video. We, as a record label company, are always looking for undiscovered artists who are serious about their work, love making music and would like to contribute to the music industry. With the release of "Will You" we are calling out those artists and are committed to facilitating them and providing them with the expertise needed in getting ahead."
The music video is the first of many interesting pieces of work that Asad's fans will be seeing this year. He has been working on creating new music and hopes that his fans continue to support him the way they have since he first started his solo career.